Środek do odtłuszczania i czyszczenia DERUSTIT 2084 – compound for degreasing and cleaning stainless steelstali nierdzewnej Derustit 2084
Cleaning, oxide layer removal and degreasing surface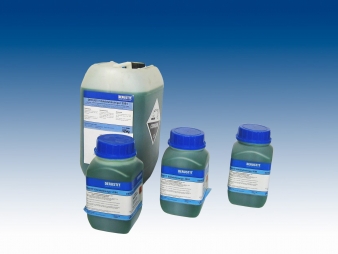 Scope of application (oryginal) Derustit 2084
Compound recommended for stainless steel cleaning, free of pickling ingredients. Removes oxide layer.
Directions for use
Apply compound on surface with low pressure spraying gun or brush.
Use not diluted.
Reaction time
Leave compound on cleaned surface for period of 30min to 2 hrs. Then thoroughly rinse surface with water (recommended high pressure spraying), to get neutral reaction.
Safety
DERUSTIT 2084 contains acids as active substances and so has an irritating action on human body. Use of protecting goggles, gloves, suit and respiratory protection is obligatory. Packed compound should be protected against direct sunshine.
Available packages